'I had not known of the intensity of your political activities in Vienna, only the vaguest rumours, and I was quite fascinated, even a bit envious. I like my own life very much, but if that had not been available and if I had to choose another one, I think it would have been yours'. Letter from Anna Freud to Muriel Gardiner, 1972
This new exhibition at the Freud Museum London explores and celebrates the incredible story of Muriel Gardiner's life, through family photo albums, unpublished documents and Muriel's own autobiography, Code Name Mary. She was an unsung heroine, saving the lives of countless individuals from the Austrian fascist, and then the Nazi, regime, though frequently in danger herself.
In the 1920s she travelled to Europe, attended Oxford University, and moved to Vienna where she hoped to be analysed by Sigmund Freud. In Vienna she had a short-lived marriage to a British musician Julian Gardiner, by whom she had a daughter Connie.
'Arriving in Vienna one May afternoon, when the streets and parks were filled with the scent of lilac, I immediately sat down and wrote a letter to Freud asking whether he would accept me as a patient.'
In Vienna Muriel Gardiner studied medicine, and in the 1930s became increasingly involved in political activities against the repressive Austrian regime which had come to power in 1934. Under the code name 'Mary', she smuggled money and procured false passports for her comrades. Her apartment acted as a safe-house for anti-fascist dissidents, while fugitives hid in her cottage deep in the Vienna Woods. She fell in love with, and later married, Joseph Buttinger, leader of the Austrian Revolutionary Socialists.
At the outbreak of the Second World War, Gardiner returned to the US with her husband and daughter, where they worked tirelessly to bring as many German and Austrian refugees to America as possible.
After the Second World War, Muriel Gardiner continued to be active in many causes. She had a busy psychoanalytical practice, taught at various universities, and published several well-received books. These included The Wolf-Man and Sigmund Freud, about Freud's most famous patient, Sergei Pankejeff. Muriel had known him in Vienna, taking Russian lessons with him for a while, and supported him after the devastating suicide of his wife, helping him make his way to London in 1938.
Muriel Gardiner was believed to be the anti-Nazi activist 'Julia' in Lillian Hellman's book Pentimento, later filmed as Julia, starring Jane Fonda and Vanessa Redgrave. This encouraged Muriel Gardiner to finally tell her own story in Code Name: Mary, published in 1983, and now reprinted for this exhibition.
Towards the end of her life Muriel Gardiner was instrumental in the establishment of the Freud Museum London. She worked with Anna Freud to make the creation of a museum possible after Anna Freud's death, financing it through her family foundation. The New-Land Foundation continued to support the Museum for many years. Muriel Gardiner herself died in 1985, aged 84.
This new exhibition at the Freud Museum London will celebrate her extraordinary life. Supporting events will be given added star quality by the involvement of Vanessa Redgrave, who not only won an Oscar for her performance in the 1977 film Julia – widely believed to be based on Muriel Gardiner – but also used Gardiner as a central character in her play Vienna 1934-Munich 1938.
The exhibition is supported by the Botstiber Institute for Austrian-American Studies, and the reprint of Muriel Gardiner's memoir Code Name Mary by the New-Land Foundation.
https://www.freud.org.uk/exhibitions/code-name-mary-the-extraordinary-life-of-muriel-gardiner/
AND FOR CHRISTMAS TIME. IN FILMIN, "TODAS LAS CRIATURAS GRANDES Y PEQUEÑAS"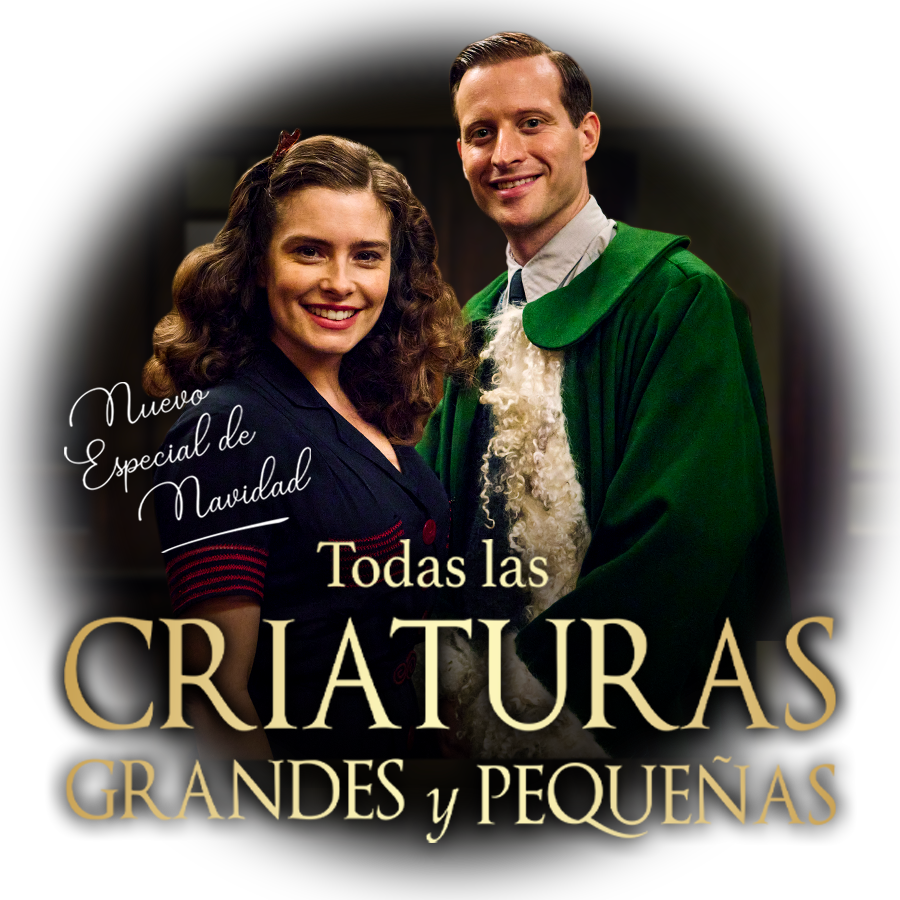 Una de las series más queridas de Filmin y un fenómeno en Reino Unido.
Helen y James están recién casados, pero aún no han decidido con quién pasarán las Navidades. Mrs. Hall les espera en Skeldale y Jenny en la Granja Heston. La joven pareja no quiere decepcionar a nadie en sus primeras navidades en familia, ¿pero serán capaces de conseguirlo?