HE CAME TO MADRID IN 2018, FOR THE PREMIERE OF THE MUSICAL, BASED ON HIS MOST FAMOUS NOVEL.
HE WAS LIVING THE NUEVO APOLO THEATER, I LOOKED AT HIM. HE DEDICATED TO ME A SWEET SMILE, MADE A SLIGHT HAND MOVEMENT AND THE TAXI LEFT.
MAY THE GODS BE WITH YOU, DEAR MASTER.
BYE....
NOVEMBER, THE 24TH, 2021
Alicia Perris
This is the program I prepared with interviews with the members of The physician cast in Madrid, 3 years ago...
AUDIO: https://www.radiosefarad.com/el-medico-el-musical/
El musical
"El médico"
a partir del relato de
Noah Gordon
, con música de
Iván Macías
se estrena el próximo
17 de octubre
en el
Teatro Nuevo Apolo
de Madrid:
Un mosaico proteico, de una diversidad carnosa, "El médico" recorre un verdadero camino iniciático de Oeste a Este, de Londres a Oriente, en busca de la Verdad, la Sabiduría y la Supervivencia.
Cuenta el dossier, que tan cuidadosamente preparó el equipo de prensa y producción de este montaje, que "El musical El Médico", es un ejemplo de ello. Basada en la conocida y exitosa novela de Noah Gordon, El Médico, cuya esencia está plasmada en una música y un libreto que transportan al espectador "a experimentar las aventuras de Rob J. Cole de una manera nueva y maravillosa", según las propias palabras de Gordon.
El origen del musical El Médico tiene detrás una historia de inspiración,constancia y suerte, que llevó a sus creadores, el compositor Iván Macías y el productor Pablo Martínez hasta la ciudad de Boston. Allí presentaron personalmente el proyecto a un ilusionado Noah Gordon,acompañados por Michael, el hijo del escritor, al que previamente habían mostrado el prólogo de la obra en Barcelona.
En palabras del escritor "la emoción de la novela ha conseguido traspasar a la música para que pueda oír mi libro. Estoy encantado de que los lectores ahora puedan experimentar las aventuras de Rob J. Cole de una manera nueva y maravillosa".
Tras este encuentro, en el que la conexión con el escritor fue la clave del proyecto, Gordon cedió los derechos para desarrollar el musical. Desde ese momento, en junio de 2016, el escritor ha participado personal y activamente en todo el proceso creativo aportando su huella.
El musical El Médico ha sido creado y producido íntegramente en España, un proyecto muy ambicioso que cuenta con 33 actores en escena y 20 músicos en directo, la orquesta más grande del teatro músical hispano, ofreciendo al espectador una experiencia única como no se ha vivido nunca en un teatro en Madrid.
Una preciosa colección de letras adaptadas a partir de una novela que ya forma parte de los clásicos del relato histórico, enredada en una partitura sensible y lujosa, pueda viajar muy pronto a otros lugares del mundo, siguiendo la inspiración de sus creadores.

Alicia Perris
BOOKS
Author of 'The Physician' Noah Gordon dies aged 95
Having topped bestseller lists in Germany and Spain, the film adaptation of his bestselling book starring Ben Kingsley and Tom Payne is currently on Netflix.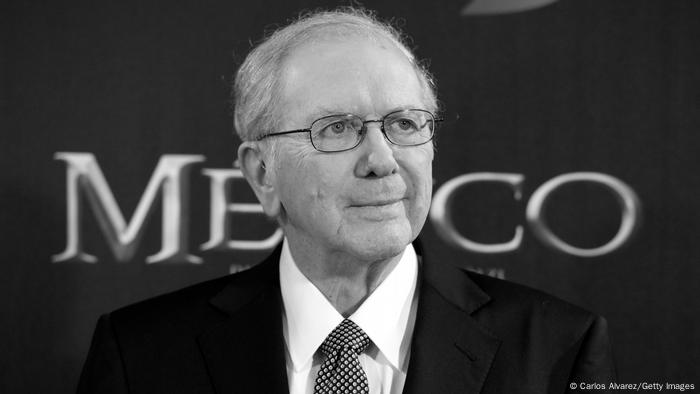 Gordon is seen here attending the Spanish premiere of 'The Physician' in Madrid in 2013
Noah Gordon had a unique position of enjoying bestseller author status outside of his native US.
When his best-known work, "The Physician," was released in 1986, it sold nearly 10 million copies in 35 countries. Its German translation, "Der Medicus," sold 6 million copies.
Set in the 11th century, the series followed the adventures of the orphaned Robert Jeremy Cole from his childhood in England to life in Europe and his studies at the medical college in Isfahan — now Iran — where he learned from the great physician, Avicenna. It was the first of a trilogy, with the follow-up novels "Shaman" (1992) and "Matters of Choice" (1995) becoming bestsellers too.
"Der Medicus" was filmed in 2013 in English by German director Philipp Stölzl, and starred British actors Tom Payne and Ben Kingsley, and featured then upcoming German actor Elyas M'Barek.
It was an immediate box office hit and even earned its producers a Bogey Award — a German prize based on the number of people who see a film within a given time frame — for attracting more than 1,000 visitors per screening on its opening weekend, and 1 million visitors within 10 days.
A musical based on the book was also staged in Spain in 2018.
Today, it's available for viewing on streaming giant Netflix.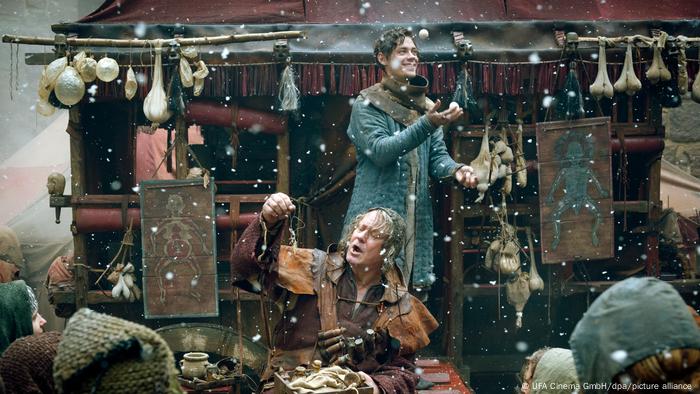 Actors Stellan Skarsgard (foreground) and Tom Payne as Rob Cole in a scene from the film 'The Physician'
Better known outside of home
It had however taken over four years for "The Physician" to hit American shelves. The fact that Gordon was better known outside of the US was also the subject of commentaries both by The New York Times and the Boston Globe in 1996 and 2015 respectively.
Gordon who had only recently celebrated his 95th birthday, was born on November 11, 1926 in Worcester, in the US east coast state of Massachusetts, and was raised Jewish. He served in the US Army towards the end of World War II.
He initially studied medicine, following his parents' wishes, but switched to journalism after a semester.
Among others, he worked at the Boston Herald newspaper and subsequently became editor-in-chief of Science magazine. He later switched to freelance journalism and continued to write science articles in addition to novels.
His first book, "The Rabbi," was published in 1965 and drew on his experiences growing up Jewish-American. His second book, "The Death Committee," followed four years later.
He published his last novel, "The Winemaker," in 2012. The story is set in Catalonia, Spain at the end of the 19th century during the Carlist Wars.
"Noah's life and work have touched the lives of millions of readers across the globe," his family said in a statement. "His work lives on."